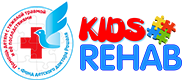 The KIDSREHAB project was created together with the Research Institute of Emergency Pediatric Surgery and Traumatology of Moscow Health Department, including the funds from a grant from the Moscow city budget.
KIDSREHAB is a cloud-based remote monitoring platform for severely injured child patients discharged after stage I of rehabilitation, an effective mechanism for continuous monitoring of the child's condition and well-being.
The platform allows to support the parents of a seriously ill child in making decisions, improves knowledge about care and rehabilitation methods at home, provides psychological support, improves the quality of life and speeds up the recovery of the child, reduces the financial burden by optimizing transportation and costs for specialists taking care of a sick child.
Today, 5 leading clinics and institutes in Russia successfully work with the KIDSREHAB system. Among them are:
Children's City Clinical Hospital No. 9, Yekaterinburg
Children's Clinical Center for Medical Rehabilitation, Khabarovsk
Research Institute of Emergency Pediatric Surgery and Traumatology, Moscow
GBUZ Regional Sol-Iletsk Medical Center, Orenburg Region, Sol-Iletsk
FSBEI HE SPbGPMU of the Ministry of Health of Russia, St. Petersburg.
At the moment, more than 150 children have already undergone or are currently undergoing rehabilitation. There were conducted more than 440 classes with instructors.
At the moment, the system implements rehabilitation for 9 nosologies are:
Compression fractures
Mild traumatic brain injury
Multiple and combined injuries.
Neuropsychiatrist.
Neuropsychologist.
Pediatrics.
Spinal cord injury
Skeletal injury.
Maxillofacial injury.
The main features of the system include:
Conducting individual sessions with the patient/council/individual-group sessions.
Appointment of exercises for self-fulfillment (homework).
Patient monitoring through questionnaires, medications and measurements.
Possibility to attract additional doctors and specialists, in addition to the main attending physician.
Anonymous messaging tool.
Resume tool (available for professionals).
Secure cloud storage of patient files (tests, extracts, etc.).
Heat maps and their download.
Dealing with anxious patients through a TV assistant.
Text and video instructions for working with the system.
Large Information Resource: Patient and Physician Library containing many articles and over 200 educational videos.
The platform is connected to the TELEREHAB. Marketplace of Rehabilitation Courses for various types of remote rehabilitation of patients